New Album "Circus Maximus" release April 24th!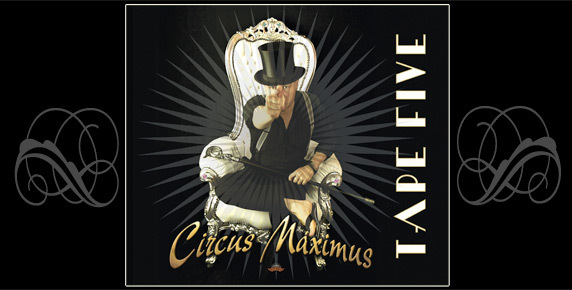 An expanding music venture in a global scale
For years, TAPE FIVE has expanding global record sales and millions of Spotify streams, it´s albums frequently appear in the top 40 charts of the big international online-retailers…
Selected songs can be found on about a thousand compilations ("Café del Mar", "Campari Lounge", "Swing Mania" and many more), they can be heard on Ad-campaigns from Spain and Hongkong to the USA and are playlisted on countless radio stations. The multinational band based in Germany has successfully played venues including the UK, Switzerland, Holland, France, Hungary, Bulgaria, Romania, Ukraine, Russia, South Korea and Brazil bringing their own brand of uplifting swing and danceable mix of styles selling out the coolest clubs and concert halls all year round.
The brandnew album "Circus Maximus" is convincing with it´s irresistable pop mass appeal
Martin Strathausen, ring leader and director of this melting pot, welcomes his top artists into his Circus tent or rather his studio arena. Once again the tried, tested and trusted TAPE FIVE brass section, and the vocals of Brenda Boykin (California), Henrik Wager and Iain Mackenzie (both UK). New in the ensemble is Dionne Wudu (South Africa) – thrilling us with tracks like "Mad Dogs On The Scene" with her powerful and soulfull voice.
After the fanfare and drum-rolls the curtain rises, and "Circus Maximus" entertains the audience with a multicolored program. Juggling instinctively with swinging housebeats ("Sax Me Up"), charleston-clarinets ("Forever Young") and crooning vocals in the style of Frankieboy Sinatra ("That's The Way I Travel"), they perform magic with the sonic elements from the balcans ("Gipsy VIP") and powerful jazz drumming styles of the late Gene Krupa ("The Big Bang"), and in a trapeze act without a safteynet letting swing and punk ("Swing Punk") respectively swing and hiphop ("Swing With Bling") fly against each other. In the encore part they perform a remix for the WDR Bigband ("Hercab") and a collaboration with the DJ/producers Bart & Baker from Paris ("Swing You Winners").
Swing, Electro-swing, Nujazz, Soul, R&B, HipHop, Disco, House and Balcan – under the pop roof of "Circus Maximus" there is enough space for sounds of the most diverse origins.
On their fifth album TAPE FIVE present themselves with pop and mass appeal as never before. Their fun songs also this time will get the party mob on the floor, without being superficial or trivial. That´s fun music with substance…
To be continued