Geraldines Remixes – new release!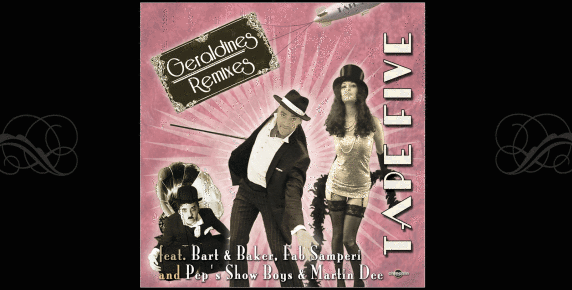 Release Date : CD 27th of September 2013, Download: 6th of September 2013
Kicking remixes from sunny southern Europe (Italy, France and Spain)
– and TAPE FIVE itself with some Electro swing, Dub step, Club and Deep house flavour that you would not expect from this brand!
News Gazette:
As we needed electrified mixes of the dance track "Geraldines Routine from the recent album SWING PATROL, we also engaged the French "Grand Monsieur's of Electro swing Bart & Baker" to do a version. Staying in the morphogenetic vibe Fab Samperi and Pep Allegria offered remixes and it was an easy choice to put them all together in this fabulous collection.
Electrify the Gramophone:
TAPE FIVE blew the dust from those old Synthesizers and plugged them in: What surprising sounds we found! Beats not just for the electron enhanced ballroom – but even mainstream clubbing!
The Songs:
Geraldines Routine, one of the dance tracks from the album "Swing Patrol", already in the radio playlists, got brand new revamp. See if you prefer the "Spin Around Radio Mix" which recreates the passion and elegance of a Balkan wedding, the stomping one with some Dub step elements – or the Bart & Baker version which went deep into House.
Bad Boy Goodman, TAPE FIVE´s successful track which became a standard in the sophisticated Electro Swing scene, now in a Barcelona Club style done by Pep´s Show Boys & Martin Dee from Spain.
Madame Coquette, the song from the successful "Tonight Josephine" album got dressed down in Italy by Fab Samperi, ready to stick her powdered nose through the club doors.
How Coquettish!